8 Lessons
---
You'll learn mindfulness practices, stress relieving movement, and ways to support your self, body & brain!
Video Tutorials
---
You'll choose from dozens of engaging video lessons, guiding you through instruction & application of mindful contemplation.
Made for Teens
---
You know teens are special. Your concerns are unique. This program was made specifically for you.
YOU WANT TO BE HAPPIER & MORE FOCUSED . . . BUT YOU CAN'T STOP STRESSING
---
Being a teen is fun. It's also tough. You've got schoolwork, a job or chores at home, studying and tests, sports, and work or college applications.
School is supposed to be the best years of your life. It is, new songs, new moves, new friends, new knowledge. But sometimes it seems like every time you turn around there is one more thing that stresses you.
Now we're in the middle of a pandemic. You miss your friends. You worry that someone in your family, someone you love might get sick or lose their job, or that you might get sick. You care a lot. You're sensitive and wish you could help.
It's hard to get organized and plan your time without being at school. The school day used to help keep you on track. Your teachers and friends would remind you what came next. There'd be fun moments in the hall in between classes. Trips and sports, plays and proms to look forward to. You're trying to be brave and optimistic, but somedays it's just hard.
YOU'VE TRIED PUSHING YOURSELF BUT YOU STILL FEEL LIKE YOU CAN'T GET ON TOP OF THINGS
---
You feel like you've tried pretty much everything but you still feel like you're slipping. You tell your friends and your family you're fine but at night you have a hard time sleeping and just scroll through your phone looking for something to help pick you up. You do find things that make you laugh. You've got some great friends. Your family creates special activities, someone makes your favorite meal or plays games with you. But inside you still feel . . . you're not quite sure what.
Well,
What If...
YOU KNEW HOW TO CALM
In these lessons, you'll learn some simple tools that you can use anywhere, at home, on the bus, at school, to help you dial back the jitters and create a foundation of calm.
YOU BUILT INNER STRENGTH
By practicing objectivity on thought you can become curious instead of being overwhelmed, building your inner strength while you experience the joy of accomplishment.
YOU FINALLY FELT CONNECTED
You can grow your muscles of care. The neuroscience shows that when you practice these Love & Kindness tools you'll feel more connected and more caring to yourself and to others. Your brain will actually strengthen so those feelings will come more easily and build your resilience and stability.
Introducing...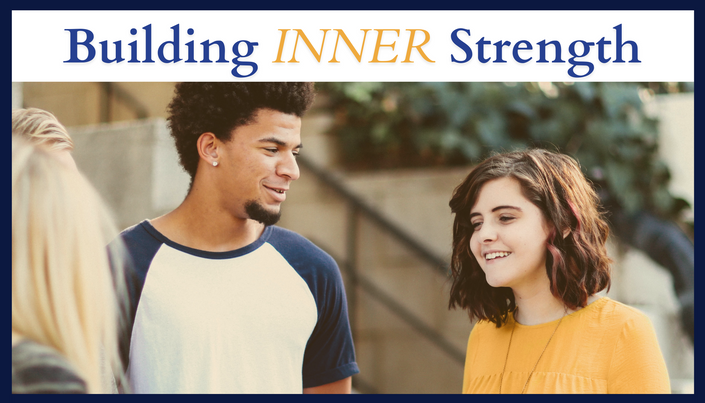 BUILDING INNER STRENGTH
---
Building Inner Strength is a wellness program unlike any other. Designed specifically for teenagers during the time of COVID-19 and the call for greater equity, this program gives the youth of today real tools that will help them navigate uncertainty and find stability in this world.
With video lessons, audio practices, questions for self-reflection, and group activities for the classroom, Building Inner Strength takes a moment of challenge and turns it into a moment of learning and opportunity. Opportunity to develop lifelong habits that will help you thrive.
Each and every Lesson and Lecture will empower you with mindfulness, the science of restorative movement, trauma-informed neuroscience, Social-emotional skills, and a pathway of respect, potential, and higher aspirations.
Let's get to it and build inner strength and outer stability!
This course is designed for you to do as much (with Learn More sections and bonus activities) or as little (learning one tool well and practicing regularly builds a powerful habit of exploration and wellness). Of course, if you're doing this in a class, please listen to your teacher and follow their homework assignments.
There are many interesting aspects of brain science and ways of understanding better how our world works and how to make sense of your thoughts and feelings. Learning these perspectives is a foundation to reducing your anxiety. Do not force or push yourself to do the exercises if they make you feel more anxious. That can happen. There is nothing wrong with it. Just work at your own pace and follow those activities that give you the greatest sense of ease and stability.
Ask your classroom teacher or email the staff at admin AT innerstrengthfoundation.net and someone will help clarify the exercises for you.
Yes, absolutely. You must use your Philasd.org email to log into the course, then you can show your friends and family and practice the exercises together.
This is for you if...
---
YOU'VE ALWAYS STRUGGLED WITH ANXIETY & STRESS
If you've always struggled with worry and overwhelm and a weight on your shoulders, the exercises and perspectives you'll learn here will help you dial back the feelings of anxiousness and help you feel greater calm, stability, and strength.
YOU WANT TO FEEL YOUR BEST & DO YOUR BEST
If you feel like you have great potential and capacities and long to reach your higher goals, these tools will help you stay focused, on track, and optimistic about what's possible.
YOU'RE READY TO LEARN HOW TO BUILD RESILIENCE & CONNECTION
Feeling your best and building a social network of good friends and supportive classmates starts with your own well-being. You will learn how to be your own best friend. When you support yourself, you bounce back from challenge more easily, you are kind to yourself in your thoughts, and you feel more connected to the caring people around you. Let's get started! There's a lot to learn, and it's going to be fun!
Enter your school email & begin!
---